Media is the fourth pillar of democracy. The media should be free and put forth genuine happenings of society. Newspapers, which are physical printed forms of media, are very important for the development and guidance of society. The language of the newspaper is based on the local language of the people living in that state or country.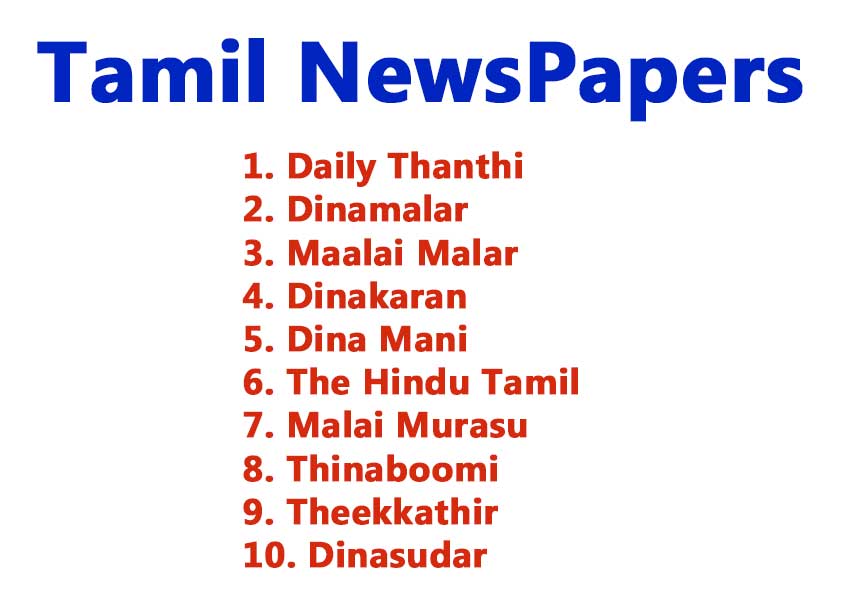 Tamil newspapers are printed and circulated in the TamilNadu State of India, where Tamil is their local language. The news in these papers is split up into the national news, state news, local district news, sports, and cinema news. Tamil newspapers have a huge impact on state politics during elections. Tamil newspapers are also printed in countries like Singapore, Canada, Malaysia for the Tamil community people staying there.
The list of the 10 best Tamil newspapers in Tamilnadu is as follows
Dinathanthi Tamil Newspapers
Dinathanthi is also known as DailyThanthi. Three decades ago, S. P. Adithanar – inspired by popular Western publications – found the need for a Tamil daily that would reach the masses through engaging content and easy language. In November 1942, he launched Dina Thanthi, which is rapidly growing to become the largest circulated newspaper in Tamil Nadu and is also the 5th largest read newspaper in the country. November 2015 sees history recreate itself with the launch of a new English language daily from this leading media house. For over 74 years Daily Thanthi has informed, entertained, and enlightened you with credible news in Tamil. And starting 1st of November 2015, you will get news in English as well.
Our news, lifestyle, and entertainment product is customized for this segment. We offer the promise of more, built on the bedrock of trust and familiarity that Daily Thanthi brings to your front door, every morning. We will strengthen the bond with our regular reader, and look to forge new ties with new members of the household. This product aims to go beyond print and serve as a powerful and unique cross-platform trifecta that will seamlessly straddle traditional print content and be able to push the same across a digital medium that will organically create a community-based on shared interests, trust, and celebration of our local culture.
More than seven decades ago, Si. Balasubramania Aditan, fondly known as Aditanar, a Tamil lawyer, politician, the minister found himself inspired by popular Western publications and realized there was an urgent need for a Tamil newspaper that could reach the masses through engaging content and easy to understand language. On November 1, 1942, he launched Daily Thanthi, which rapidly rose to the top to become the largest circulated daily in Tamil Nadu, and the fifth largest read newspaper in the country.
The man behind this fruitful journey, Aditanar, was not just a media-savvy businessman, but a respected statesman as well. He was the founder of the We Tamils party, served as a member of the Tamil Nadu Legislative Assembly for four terms, and was the speaker of the Assembly during 1967–68. He was also Tamil Nadu's minister for Cooperation in M Karunanidhi's cabinets of 1969 and 1971. In his memory, two annual Tamil literary awards have been set up to honor his legendary love for the language.
When he established Daily Than¬thi in 1942, it went on to become the flagship of his newspaper business. He expanded operations by opening additional editions in Tirunelveli, Madras, Salem, and Tiruchirapalli in the 1940s. Aditanar's legacy was expanded upon by his son Dr. Sivanthi Adit¬yan (24 September 1936 – 19 April 2013) who had the vision to launch the first Tamil eveninger, Maalai Murasu at Tirunelveli in 1959. Dr. Adityan was a multi-faceted per¬sonality, who took on the roles of an educationist, industrialist, and philanthropist with equal ease. He was awarded the Padma Shri in 2008 by the Government of India. He was an avid sportsman, and his passion saw him at the helm of the Indian Olympic Association from 1987 to 1996.
Under his leadership, Daily Than¬thi was published across 15 cities across the country and became the most-read Tamil daily. In 2012, Dr Adityan went on to launch a Tamil news channel, Thanthi TV, and a radio station Hello FM.
They have a separate column for local news. For example- Karur district news will be available in newspapers distributed in this district.
Dinamalar
Dinamalar is continuing to grow from 3000 copies per day in 1951 to 5,82,000 copies per day in 2005, 5,82,000(±) copies published daily. Most popular among upper and upper-middle class and educated intelligenzia. Hot and First news on local happenings with a good proportion of International reports. Popular in Metros but most popular in Non-Metro Cities and Suburbs. Very Low cost per thousand rates for Consumables and Consumer durables.
Strictly Conscious reporting and fearlessly exposing social defects and perpetrators. Renowned for social awakening and public causes. Non-Aligned to any political party or religion. This newspaper has a classified where advertisement about house sale in Karur is published.
DINAMALAR Tamil daily was launched at Thiruvanthapuram on September 06, 1951.
Ten Editions from :
Tirunelveli (1957),
Tiruchi (1966),
Chennai (1979),
Madurai (1980),
Erode (1984),
Pondicherry (1991),
Coimbatore (1992),
Vellore (1993),
Nagercoil (1996)
Salem (2000)
Karur in Tamil Nadu news will be available in Trichy Publication Since there is no separate publication for the Karur district.
Maalai Malar Tamil Newspaper
Maalaimalar Tamil Newspaper brings you the latest Tamil news from India and the rest of the World.Get In-depth Coverage of National and International Politics | Business | Sports | Cricket News. We also focus on Tamil Spiritual News | Astrology | Technology | Traditional Tamil Food Recipes | Tamil Cinema Entertainment i.e. Current movies in Karur cinemas are published in this newspaper.
If you are looking for news from your home town, trust Maalaimalar.com Tamil to get you all the latest happenings not only from districts of Tamil Nadu. Other than News and Entertainment in Tamil we also provide Astrology predictions | Daily Tamil Rasi Palan
We do care about your well-being. We provide health tips such as simple | exercise | Yoga | Home Medicine | Health food recipe rasi Palan | Child care | Natural beauty tips | Medicine for Woman | Safety tips for Woman
Technology and Automobile is part of our busy lives, we provide tech news in Tamil about the latest mobile phone | computers, and gadgets. Cars | Bikes and automobile news in Tamil are well appreciated by our readers.
Dinakaran Tamil Newspaper
Dinakaran Tamil daily newspaper distributed in India. As of March 2010, Dinakaran is the largest Tamil daily newspaper in terms of net paid circulation, which was 1,235,220. In terms of total readership, which was 16,741,000 as of May 2010, it is the second largest. Dinakaran is published from 12 centers in India namely Delhi, Mumbai, Chennai, Bangaluru, Madurai, Coimbatore, Trichy, Salem, Nagercoil, Vellore, Nellai, and Pondicherry.
Dina Mani
Dinamani is published by Express Network Private Limited that forms part of the "The New Indian Express" Group and was incorporated on August 13, 1999, under the Indian Companies Act, 1956.
This Company was promoted by Express Publications (Madurai) Private Limited which is the flagship Company of the Group. Express Publications (Madurai) Private Limited publishes the prestigious English language Newspaper, The New Indian Express from 25 centers in Tamilnadu, Karnataka, Andhra Pradesh, Kerala, and Orissa. It also publishes Sunday Standard from New Delhi.
The Hindu Tamil
KSL Media Limited, a part of The Hindu Group, publishes Hindu Tamil Thisai, the Tamil language newspaper, in the state of Tamil Nadu. It was launched on 16th September 2013. The launch of Hindu Tamil Thisai is an important milestone as it signifies the Group's foray into the regional market for the first time in its history of 135 years.
The Hindu Tamil Newspaper stands differentiated from the rest of the language dailies in Tamil Nadu through its unbiased news coverage, in-depth analysis of international, national, and local issues in its edit pages, sections devoted for Business, Personal Finance, Education & Career, Infotainment for Kids, Spiritual Wellness, Cinema, Health, Agriculture, Environment and a dedicated section for its women readers.
A special Tamil daily – "Vetri Kodi"  was launched for School Students in October 2019.
Hindu Tamil Thisai is the only daily from TN to deliver communication solutions to brands of clients, for their specific needs. Hindu Tamil Thisai ideates & executes both On Ground and Online activities for Brand launches, CSR initiatives of the clients, Customer Outreach programs in domains like Education & Career Counselling, Women Empowerment, Knowledge Enrichment for Kids through Quiz, Arts, Fun with Science and Social Awareness.
Hindu Tamil Thisai is the only Language daily across the country to receive an Award from the Election Commission of India, for carrying out a Voter Awareness Program in the state of TN, during the General Elections held in 2019. The award was presented by the President of India to our publication on the 25th of January 2020. Advertisements about Apollo hospital in Karur are done in this newspaper.
Hindu Tamil Thisai has also won WAN-IFRA South Asian Digital Media Awards 2016 under "Reader Engagement Category" for the reader awareness program ideated and executed by it during the assembly elections in 2016.
Hindu-Tamil Thisai is printed in six centers including the Main Edition at Chennai (Madras) where the Corporate Office is based. The printing centers are Chennai, Coimbatore, Madurai, Tiruchirappalli, Thiruvananthapuram, and Bengaluru.
Malai Murasu
Malai Murasu Tamil Newspapers is a Private incorporated on 11 February 2016. It is classified as a Non-govt company and is registered at Registrar of Companies, Chennai. Its authorized share capital is Rs. 40,000,000 and its paid-up capital is Rs. 29,600,000. It is involved in Sporting and other recreational activities
Malai Murasu Tv Private Limited's Annual General Meeting (AGM) was last held on 31 December 2020 and as per records from Ministry of Corporate Affairs (MCA), its balance sheet was last filed on 31 March 2020.
Directors of Malai Murasu Tv Private Limited are Kannan Adityan and Kannan Adityan Maddhumathi.
Thinaboomi
Thinaboomi Newspapers is headquartered in Madurai, Tamil Nadu. Thinaboomi is everything for every Tamilians around the world, providing local breaking news, business, sport, and entertainment 24 hours a day, 7 days a week. Thinaboomi provides its audience with the opportunity to become involved and engaged on issues and stories, with lively online debate accompanying our news.
Theekkathir
THEEKKATIR Newspaper has completed its Golden Jubilee on 29th June 2013. Now it is advancing towards its Diamond Jubilee on 2023. It was a rough and tough journey throughout the years. Theekkatir was born as a weapon for the ideological fight within the Communist Party of India. The pioneers of that ideological fight named the paper THEEKKATHIR, which means ' the spark of fire'. The word was derived from 'ISKRA' , a Russian newspaper that had been managed by Comrade Lenin.
The paper also ran a number of notable polemics against "economists", who argued against political struggle in favor of pure trade-union activity for the worker's economic interests, as well as the Socialist Revolutionaries, who advocated terror tactics. As outlined by Lenin in What Is To Be Done?, Iskra took the place of a central project to cohere the RSDLP nationally.) It was June 29, 1963, when Theekkathir was started as a weekly organ from Chennai with the fund collected by Coimbatore mill workers.
Its first editor was Comrade Arputhasamy, fondly called as Appu. When the Communist Party of India (Marxist) was formed in 1964, Theekkathir became the official organ of the Party's Tamilnadu state committee and its regular edition was launched in 1969 at Madurai, a stronghold of the Party. Theekkathir became a daily newspaper in 1971 with headquarters at Madurai. The paper's second edition was started in Chennai in 1993. It was inaugurated by Comrade EMS Namboodiripad.
Its third edition, in a multi-color form, was launched from the industrial city of Coimbatore on May 23, 2007. It was inaugurated by CPI(M) general secretary Prakash Karat. The fourth edition from Tiruchirapalli was inaugurated by CPI(M) Polit Bureau member Sitaram Yechury on September 5, 2010. Digital Edition of the paper was launched on 23rd February 2012 by Prakash Karat, General Secreatsry of the party at Nagapattinam.
From the very first day, Theekkathir established itself, in a militant and vibrant journey, as an organiser of the Party and as a spokesperson in the political-social history of modern Tamil Nadu. It played a crucial role in the history of class struggles of the working class in Tamil Nadu for the past 58 years. Under the editorship of the veteran leaders of the CPI(M) M R Venkatraman, N Sankarish, K Muthiah, and V Meenakshi Sundaram, W R Varadharajan, V.Parameshwaran the daily's contributions for the buildup of the Party, class, and mass organizations as well as imparting Party education have been priceless.
In this connection , Theekkathir is remembering the veteran leaders, who dedicated themselves for the growth of the paper, late Comrades P. Ramamurthi, M. R. Venkatraman, A. Balasubramaniyam, A. Nallasivan, R.Ramaraj, A.Abdul Wahab, N.Varadharajan, S.S.Giri and V.Sundaram. The newspaper had to undergo strict censorship during the Emergency from 1975-1977. Despite the restrictions, the newspaper could conduct an active campaign against Emergency. During the time, Theekkathir was published without an editorial which symbolized the people's strong resentment towards the government.
The paper was the first to trigger a public debate on the dangers of globalization in the country. Detailed reports were published on the future dangers in each sector. The newspaper introduced to the public anti-globalization campaigns in different parts of the world. Theekkathir also takes pride in forecasting the possible destruction of Babri Masjid by Sangh Parivar forces. The Indian Government's subservience to the US in nuclear policy and the dangers of the Nuclear Agreement with that country were revealed by "Theekkathir". Communist newspapers helped Tamil Nadu to retain the spirit of the fight and stride towards commendable social development.
Theekkathir also fights against the trend of portraying anti-socials as gentlemen with the help of mainstream media. Ideologies that take sides with people's interests will only have the ultimate win. The present-day experience proves that the stand of Communist newspapers was quite relevant in the context of social progress. Communist media in Tamil Nadu have a great tradition of helping and preserving social progress.
This tradition helps Theekkathir to expose contemporary issues and to make use of scientific and technological advancements for people's welfare. Modernisation will only help the newspaper to effectively reach out to the people and take up their issues. Now the paper is run by Toiling Masses Welfare Trust, Tamil Nadu under the publishership MNS Venkattaraman and the editorship of C.Ramalingam, both state secretariate members of the Communist Party of India (Marxist), Tamil Nadu state committee.
Dinasudar
Dinasudar Newspapers is serving the Tamil reading population for the last four decades. The only Tamil Daily published in Karnataka. Now, with two editions, Dinasudar reaches every Tamil reader in Karnataka and three neighboring Districts in Tamil Nadu. We use the latest Digital Technology, Multicolour Printing Machines, and Communication network.
Tamil news online
Apart from Tamil newspapers, there are other famous Tamil news websites that provide online news.
Below are a few of the websites which provide online Tamil news daily
Puthiya Thalaimurai
Puthiyathalaimurai (புதிய தலைமுறை) has been the undisputed number one Tamil news channel since its inception. Credibility, reliability and unbiased approach have been the hallmarks of the organization. Acknowledging the role of the digital medium, Puthiyathalaimurai has established an identity for itself in the high octane digital space with the right mix of strategy, innovation and adaptation.
The digital world of Puthiyathalaimurai is built upon the cornerstone strategy of "Anytime, Anywhere". About half a million viewers visit the Puthiyathalaimurai website puthiyathalaimurai.tv every month. Puthiyathalaimurai has been able to attract more than a million audience through its new media initiatives reaching out to more than 160 countries during any breaking news situation. The website delivers all program videos within an hour of broadcast
The Tamil diaspora spread across the globe lookup to Puthiyathalaimurai for news about their homeland making it highly sought after in countries such as the US, UK, Canada, Middle East, Malaysia, and Singapore to name a few.
Within less than 16 months of its launch, the Puthiyathalaimurai TV live stream APP, available on Android and Windows platforms has been able to attract around 9.75 lakh downloads.
The Youtube channel of Puthiyathalaimurai has about 5 crore views and more than a lakh subscribers. We decimate news as and when it happens on Facebook, WhatsApp, Google +, Twitter feeding our audience with frequent updates.
Puthiyathalaimurai's innovative think tank has brought out the "Smart paper" in the Android platform ideal for the smart tv. Within a very short span of time, there have been more than 1,00,000 downloads.
Seeking to be a leader, we would actively engage ourselves in all existing and emerging digital touchpoints, always staying above competition.
OneIndia Tamil
Oneindia.com is a multi-lingual news platform, which serves news content in English and seven Indian languages, Hindi, Tamil, Telugu, Malayalam, Kannada, Bengali and Gujarati. Founded in 2006, its mission is to connect people in their own local language.
Oneindia was started with the sole intention of serving the larger online community of users in India – the non-English speaking users. By 2021, India will have 536 million Indian language users & 200 million English users. i.e. 75% of the online users will prefer Indic. We identified this online opportunity well before anybody else did.
There are many Tamil Newspapers online websites. A few of them are given below:
Viduthalai
Tamil Murasu
Kathiravan
Seithy.com
NTamil.com
Google Tamil news
Google news in Tamil
Tamil news coverage, collected from different sources by Google.
Webdunia Tamil news site
BBC news Tamil
China Radio Tamil
Virakesari
Pairs Tamil
Tamil Murasu – Singapore
Vanakkam London
Murasoli
Asianet News – Tamil
Samayam Tamil
Tamil GoodReturns
Universal Tamil
athirvu.in
4tamilmedia.com
yarl.com
IN4NET
Tamil Mithran
Malai Murasu
Chennai Online
Athirady
Pathivu
Makkal Kural
Punnagai
Sumanasa Tamil News
Chennai Today News
inioru.com
Puthinappalakai.com
Tamilkurinji
Eeladhesam News
news.coimbatoreonline.in
Tamil Daily
TELOnews.com
Times of Adventure
Pudhuvai Oli
Cafe Kanyakumari
JVP News
News4Tamil.com
TimesTamilNews.com
TamilSanjikai.com
TamilMinutes.com
Mr Puyal
vivegamnews.com
Dinapathippu.com
Run World Media
Thinnai
Dinasuvadu
Tamil Nadu Flash News
siruthozhilmunaivor.com
Inneram
TamilWin (Sri Lanka)
IBC Tamil (UK)
Global Tamil News (UK)
Dina Anjal (Twitter page)
Canada Uthayan (Canada)
Hope you found this article about Tamil newspapers from Mykarur very useful.
Frequently Asked Questions
Where can I get Tamil newspaper dinathanthi?
Tamil newspaper dinathanthi is available for download on the website dailythanthi.com. You can also get its physical copy directly at your home by subscribing to the newspaper on the above website.
What are the top 10 Tamil newspapers in Tamil Nadu?
The top 10 Tamil newspapers in Tamil Nadu are
Daily Thanthi
Dinamalar
Maalai Malar
Dinakaran
Dina Mani
The Hindu Tamil
Malai Murasu
Thinaboomi
Theekkathir
Dinasudar
Where can I read Tamil news paper dinamalar?
You can read the Tamil news paper dinamalar on its official website  dinamalar.com, you can also get a physical copy delivered to your home by subscribing to the above website.
How can I get a Tamil news paper pdf?
You can get Tamil news paper PDf on the below websites
DinaThanthi Newspapers
Dinamalar News
Maalai Malar NewsPapers
Dinakaran Tamil Newspaper
Dina Mani Tamil Newspaper
The Hindu Tamil
Malai Murasu
Thinaboomi
Theekkathir
Dinasudar
Where can I find maalaimalar today newspaper in Tamil?
You can get maalaimalar today newspaper in Tamil at maalaimalar.com
What is the link for one India Tamil news?
The link for One India Tamil news is TamilOneIndia. You get the latest Tamil news here