Get complete details of Karur cinemas online booking at Mykarur. we provide you with the list of theatres in Karur and procedures for online booking of movie tickets.
Cinemas are one of the most preferred entertainment for the people living in the Karur district of Tamilnadu State. Motion pictures in the Tamil language are mostly released in Karur theatres.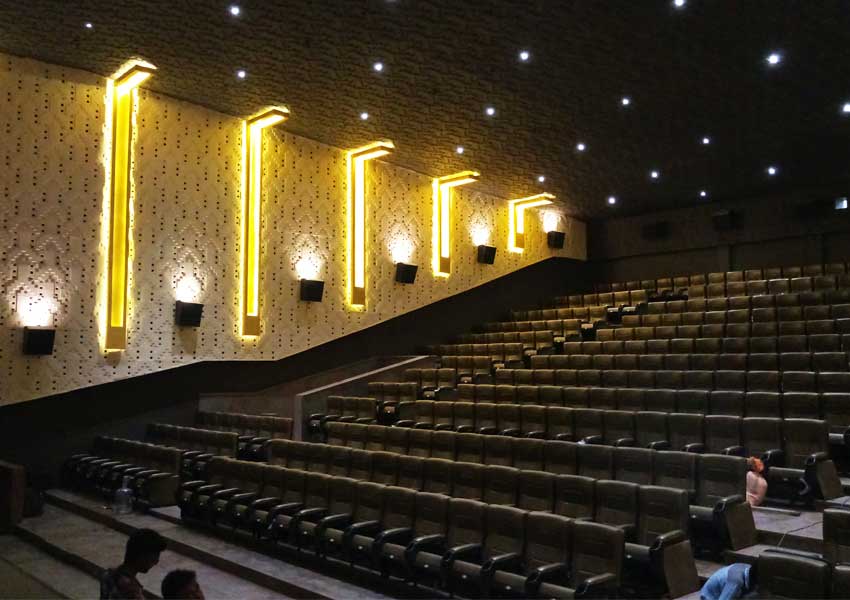 Karur Cinemas are otherwise called Karur theatre. The price of the movie ticket in these theatres varies from Rs. 100 to  Rs. 200,  and most of them have online booking facilities. There are a total of ten Karur cinemas in this district - out of that seven are Air-conditioned.
Thinnappa theatre
Thinnappa theatre, No:37, West Predarshanam Road, Karur, Tamil Nadu, India - 639002.
This is one of the biggest theatres in Karur and is located within walkable distance from the Karur Bus stand.
Phone: 91-4324232747
Thinnappa cinemas Online booking
Ajantha theatre
Ajantha Theatre, No 19 A, Covai Road, Sengunthapuram, Karur - 639002, Landmark: Near Sengunthapuram Signal
This theatre is a twin theatre with Ellora cinemas. It has good sound effects and is located on Kovai road.
Phone number: 04324 232408
Ajantha cinemas online booking
Ellora Cinemas
Ellora Theatre, No 19 , Covai Road, Sengunthapuram post, Karur Pincode - 639002,
Phone number: 04324 232408
Kalaiarangam Cinemas
Kalaiarangam Cinemas, No 75, Rathinam Salai, Karur in Tamil Nadu - 639001, Landmark: Near Railway Station
Its a one of the oldest and biggest theatres in Karur. It has very good sound effects with a very big screen.
Phone: 04324 232598
Kalaiarangam karur cinemas online booking
Kavithalaya Cinemas
Kavithalaya Cinemas, Rathinam Salai, Near Karur Railway Station, Karur, Tamil Nadu 639001
Contact number: 04324 232598
Kavithalaya theatre online booking
Amutha theatre
Amutha Theatre, No 16 Amutha Complex, Rathinam Salai, Karur Ho, Karur - 639001, Near Karur Railway Station
Amutha and Pon Amutha are twin theatres with good sound effects.
Phone number: 04324 232259
Amutha theatre online ticket booking
Pon Amutha Cinemas
Pon Amutha cinemas, Near Karur Junction, Rathnam salai, Karur, India 639001
Phone number: 7708846869
Pon Amutha Cinemas online booking
Lakshmiram Theatre
Lakshmiram theater, No 61, Dindigul Road, Makkal Pathai, Opposite Bombay sweets and Bakery, Karur, Tamil Nadu 639001, India
Phone: 9443701681
Lakshmiram Karur cinemas online booking 
Vetri theatre
Vetri theatre, Gandhigramam Road, Pasupathipalayam, Karur - 639004, Near Raja Nagar Ramanoor
This theatre doesn't have online booking, it's famous for the second release of the movies. Very rarely new movies are released in this theatre.
Phone number: 9994477955
Makkal Cinemas
Makkal Cinemas, Aravakurichi Main Road, Aravakurichi, Tamil Nadu, Aravakurichi, Tamil Nadu 639201.
For the past many years this theatre was closed. In 2021 this theatre was renewed and is now available for the public to watch movies.
Makkal cinemas online tikcet booking
Karur Cinemas online booking
Due to the current covid pandemic situation, most of the people in Karur prefer to book movie tickets online in order to avoid crowds at ticket counters.
Karur cinemas online booking can be done through Karurcinemas.com. It provides online ticket booking for most theatres in Karur. It also shows the list of newly released movies with show timing and ticket availability on its website. You need to have an email id and a mobile number to book and receive movie tickets through this website.
You will receive an SMS after the ticket booking is confirmed, You can also verify the ticket booking history on the same website. The current movie details in each theatre are published in Tamil Newspapers.
Frequently Asked Questions
How many cinema theatres are there in Karur?
There are 10 cinema theatres in Karur. They are
1. Thinnappa Theatre
2. Ajantha Theatre
3. Ellora Cinemas
4. Kalaiarangam Cinemas
5. Kavithalaya Cinemas
6. Amutha Theatre
7. Pon Amutha Cinemas
8. Lakshmiram Theatre
9. Vetri Theatre
10. Makkal Cinemas
Is online ticket booking available in Karur theatres?
Yes. online booking of movie tickets are available in Karur theatres
What is the website link for the online booking of movie tickets in Karur theatres?
Online booking of movie tickets for Karur theatres are available at Karur cinemas.com
What is the cost of a movie ticket in Karur theatres?
The cost of a movie ticket to Karur theatre starts from Rs.100