Karur is one of the oldest towns of Tamil Nadu and has played a very significant role in the history and culture of the Tamils. Its history dates back over 2000 years and was a flourishing trading center from the early Sangam days.
In ancient and medieval times, the area was ruled by Cheras, Gangas, and Cholas. The Pasupatheesvarar Temple in Karur was built by the Chola kings in the 7th century. Later the Nayakars followed by Tipu Sultan also ruled Karur.
The British added Karur to their possessions after destroying the Karur Fort during the war against Tipu Sultan in 1783. There is a memorial at Rayanur dedicated to the warriors who lost their lives in the fight against the British in the Anglo-Mysore Wars.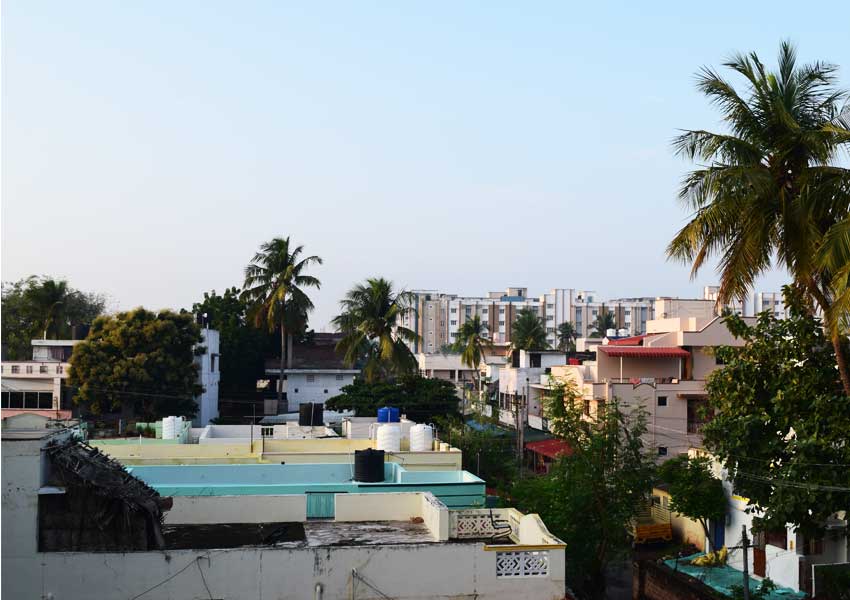 Karur in Tamil Nadu has a very strong and deep root in the History of Tamils. It was an important trading center during the Sangam literature period. Karur is a part of Kongu Nadu – where most of the people living here; are involved in Agriculture and Farming activities. The Chola kings who ruled Karur during the 7th Century built Pasupatheesvarar Temple – the first and foremost of the seven Siva shrines of Kongu Nadu.
The developed and urban area of Karur taluk is called Karur City. During British rule, Karur was a taluk in Tiruchirappalli district and then it was declared as a district; that forms the present Karur city with the surrounding taluks.
Let's further look into details of Karur in Tamil Nadu
History
Karur got its name from Karuvurar Siddhar, a famous Siddhar and one among 18 Siddhas who lived in Tamil Nadu. He guided the installation of the great Siva Lingam in the Thanjai Peruvudaiyar temple at Thanjavur district, Tamil Nadu.
Karur is one of the oldest towns in Tamil Nadu state and has played a very significant role in the history and culture of Tamil people. Its history dates back over 2000 years and has been a flourishing trading center even from the early Sangam period.
In ancient and medieval times, Karur was ruled by the Cheras, Pandiyas, Cholas and was the capital of Cheras. The Pasupatheesvarar Temple sung by Thirugnana Sambhandar, in Karur was built by the Chola kings in the 7th century.
Later, the Nayakars followed by Tipu Sultan also ruled Karur
Tourist & worship places in Karur
Pasupatheeshwara Temple, Karur.
Kalyana venkatramana swami Temple, Thanthonimalai, Karur.
Mariyamman Temple, Karur.
Rathinakireeshwarar Tample – Ayyarmalai, Kulithalai
Balathandayuthapani Temple – Vennamalai, Karur.
Aar Nattanmalai – Velayuthampalayam, Karur.
Kadambeshwarar Temple – Kulithalai.
Ponnaniyar Dam – Kadavur.
Mayanur Barrage – Mayanur
Banks in Karur Tamil Nadu
The Bank has spread its wings across the country with 782 branches in 20 States and 3 Union Territories. For customer support, you can contact the KVB customer care number.
Contact details and communication addresses are as below
THE KARUR VYSYA BANK LIMITED,
Registered & Central Office,
No. 20, Erode Road,
Vadivel Nagar,
L.N.S.,
Karur Pincode – 639002.
Phone : 04324 – 269000 Fax : 04324 – 225514
Website: Karur vysya bank
Lakshmi Vilas Bank
Lakshmi Vilas Bank was founded in 1926 by a group of seven progressive businessmen in Karur under the leadership of Shri V.S.N. Ramalinga Chettiar. The mission was to cater to the financial needs of the people in and around the textile city of Tamil Nadu, Karur involved in various trading businesses, industries and agriculture.
The modest endeavour to offer financial support to people, nine decades later, has turned out to be a leading banking institution based on robust principles, responsive and prudent leadership and exceptional resilience. The Bank was finally incorporated on November 3, 1926 under the Indian Companies Act, 1913, and obtained the certificate to commence business on November 10, 1926.
Subsequent to introduction of the Banking Regulations Act, 1949 and Reserve Bank of India as the regulator for the banking sector.
The Bank obtained its banking license from RBI on June 19, 1958, and on August 11, 1958 it became a 'scheduled commercial bank' signifying capability to operate as a full-fledged commercial bank.
Lakshmi Vilas Bank Regional office Address
Registered Office Building,
2nd Floor,
Salem Main Road,
Kathaparai,
Karur district, pincode – 639006.
Off Ph:258413 STD:04324
Website: Lakshmi Vilas Bank
villages list
Karur district villages list consist of 203 Revenue Villages, which are further classified based on 7 taluks in Karur district. Aravakurichi taluk consists of 58 villages and is considered the biggest taluk of Karur. Kadavur taluk has only 22 villages and is the smallest taluk in Karur.
Types of Industries
Karur is an industrial area. It has provided employment to both rural and urban populations in and around the district. The types of industries of Karur in Tamil Nadu are
Bus Body Building companies
Mosquito Net manufacturing industries
Power Looms and handlooms
Spinning Mills
Textile Export units
Cement Pipes manufacturing
Bricks production
Major Industries
The major industries in Karur Tamil Nadu are as follows
Tamil Nadu Newsprint & Paper Limited
website: TNPL Paper
Chettinad Cement
website: chettinad cement
E.I.D.Parry Sugar Manufacturing Industry
Website: E.I.D Parry
Karur Mavattam
Karur Mavattam is the Tamil name of Karur district. Ma means Big and Vattam means area; hence its named as Karur Mavattam. Tamil is the local language of people living here. On 30th September 1995  Karur taluk was declared as Karur mavattam. Currently, this mavattam has 7 taluks and 203 villages. Mykarur provides you the complete details of Karur district in Tamil Nadu
Karur Weather and Temperature
Karur Weather is 25°C at Night and 35°C during the daytime. It experiences a tropical climate with a warm temperature. The district receives Monsoon rainfall during October and November months. Summer will be hot with 40°C average temperature.
There are 5 Rivers flowing through Karur in Tamil Nadu. They are
Cauvery
Amaravathy
Nanganjiyaaru
Noyyal
Pungar
Pin Code
Karur Pin code starts from 639001, it is the pin code for the head post office in Karur district This office will be the head for all the pin codes in Karur city. There are 3 post offices with 639001 Karur Pincode
There are 248 post offices with shared or unique pin codes in the district. Few of the Karur pin codes are shared among the same post offices in the Karur district.
For example, pin code 639004 of Pasupathipalayam Karur post office and Gandhigramam Karur post office are the same.
All 248 post offices report to Karur head post office. Click Karur pin code to view a complete list of post office names and pin codes in the district.
Frequently Asked Questions
What is called Karur Day?
30th September 1995 is called Karur Day. This was the day in which, Karur district was formed after separating Karur taluk from Trichy district of Tamil Nadu state, India.
What is the famous food in Karur?
The most famous food in Karur is clay pot cooked food.
It's locally called Manpaanai Samayal food.
Recipes like chicken gravy, Mutton gravy, chicken biryani, mutton biryani cooked in Manpaanai samayal are very famous in Karur.
It's a traditional way of cooking food in Clay or Mud pot.
There are many restaurants in Karur that cook Manpaanai samayal.
Most of these restaurants are located in Karur National Highways 44 (NH 44) – the longest highway in India.
Who is the current collector of Karur district?
Dr.T.Prabhushankar I.A.S is the collector of Karur district as of June 2021.
What is the famous of Karur?
Karur is famous for the following:
Drumstick vegetable cultivation.
Banana Plantation, ICAR- National Research Centre for Banana (NRCB) is located at the border of Karur and Trichy districts.
Vanagam – Nammalvar Ecological Foundation initiated by Thiru. Nammalvar.
Many famous big and old temples are in Karur.
Karur Vysya bank.
Mosquito net production.
Handloom and home textile products.
Bus bodybuilding companies.
Is there any house for sale in Karur?
House for sale in Karur are available throughout the year with a price range of 30 to 45 lakhs
Are there any hospitals in Karur?
Yea there are many famous private and Government hospitals in Karur. Apollo hospital in Karur is the largest multi-specialty hospital here.
What are the places for entertainment for people in Karur?
Theatres in Karur, Parks, Museum are the places for entertainment for the people living in the Karur, Tamil Nadu
Where can i Find news about Karur?
Karur in Tamil Nadu news is published in local Tamil newspapers.