Health care is very important for people living in cities and towns. The development of a city is based on the hospital's infrastructure availability in it. Particularly after the covid issues, the importance of hospitals has increased in all the cities. Karur in Tamil Nadu has both private and government hospitals.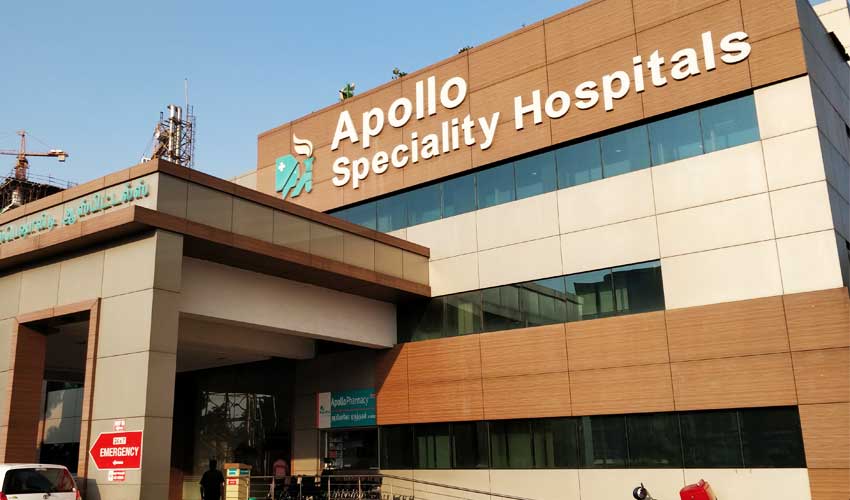 Apollo hospital in Karur is the biggest Multi-Specialty hospital established in the year 2009, it has 100 beds along with an intensive care unit (ICU) and Critical care unit (CCU). It has its own Clinical Laboratory and scan centre, which makes it easy for the patients who visit here. They provide healthcare service at an affordable cost with the latest technology.
Below is the list of important details of Apollo hospital in Karur
Apollo hospital Karur phone number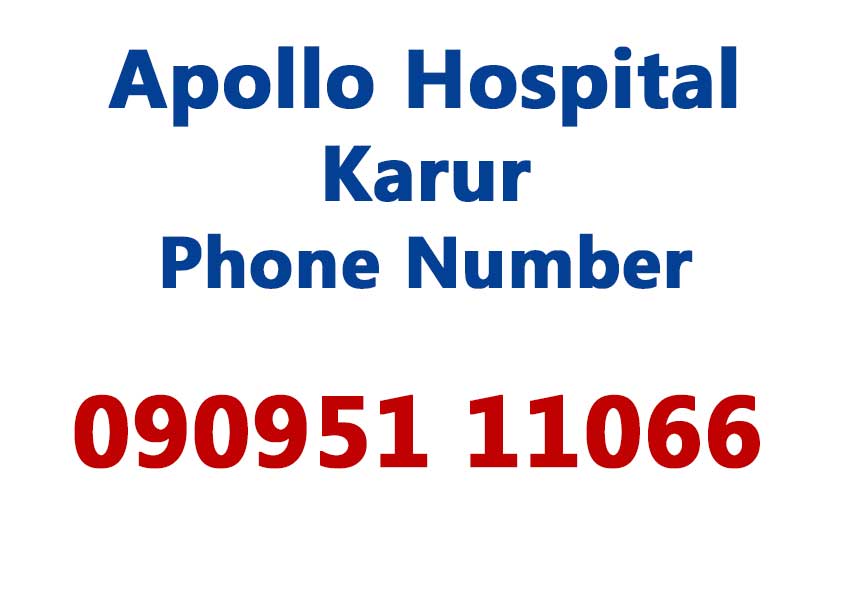 The Apollo hospital Karur phone number is 09095211066. The call will be connected to the reception via the above numbers and you can enquire about your doubts. For booking Doctors Appointments, you need to contact +91 9095466211.
Below is the complete list of Apollo hospital karur contact numbers
Enquiry & Reception:               +91 4324 – 241900 / 240800 / 240900
Doctors Appointments:           +91 9095466211
Emergency:                                1066 / +91 9865211066 / +91 9965579211
Helpdesk:                                   +91 9095211066
Preventive Health Checkup:  +91 9750977211
Grievance & Feedback:           +91 9750972211
E-mail:                                        [email protected]
You can also book for doctor appointment online at Apollo hospital doctor Appointment
Address for communication:
Apollo hospital,
163 A- E, Allwyn Nagar, 30,
LGB Nagar, Kovai Main Rd,
Vaiyapuri Nagar,
Ramanujam Nagar,
Karur Pin code 639002
Facilities in hospital
It is one of the Biggest Multispecialty Hospitals in Karur
Cath Lab facility
Intensive Care Unit for Neo-natal Care
Aneurysm Surgery (Neurosurgery)
Arthroscopy surgery
Pediatric Thoracic surgery.
Poly Trauma unit
Dialysis unit
Neurosciences
Community initiatives at Apollo Hospitals in Karur are-
Establishment of a Tele-Medicine center that helps people to get quality consultation from other Apollo locations.
"Healthy Karur" – an initiative that engages people in and around Karur. Disseminating awareness and health screening of the poor and needy are the highlights of this program which is being conducted every Sunday now for more than 100 weeks.
BLS Initiative for Students & Drivers in & around Karur district.
Departments in Apollo hospital
Accident & Emergency Care
Anesthesiology & Pain Management
Cardiology
Clinical Laboratory
Dental Services
Dialysis Facility
ENT Surgery
General Medicine
General Surgery
Laparoscopic Surgery
Neonatology
Neurology
Neuro Surgery
Nutrition and Dietetics
Ophthalmology
Obstetrics & Gynecology
Orthopedics
Oral Maxillofacial surgery
Pediatrics
Psychiatry
Physiotherapy
Pulmonology
Urology
24 hours pharmacy
Treatments available at Apollo hospital
Apollo hospital in Karur provides advanced treatment with the latest technology available in India. Below are the details of some of the treatments available at the hospital
Bone Marrow Transplantation
The blood and bone marrow transplantation center at Apollo Hospitals, India has performed over 1500 transplants with an excellent success rate. Apollo Hospitals, India is also a trusted name in BMT for international patients, as the hospital has not just a highly qualified BMT team, but also very stringent infection control norms which are critical for BMT patients. BMT treatment is available at Apollo Hospitals in Chennai, New Delhi, Hyderabad, Ahmedabad, and Kolkata.
Brachytherapy
Brachytherapy involves the use of radioactive sources that are either implanted into the tumor (interstitial brachytherapy) or placed near it, generally in a body cavity (intracavity brachytherapy).
In interstitial brachytherapy, devices containing radioactive material is placed within your body tissues. Breast and Prostate cancer can be treated with this approach. Devices used can be wires, balloons, and tiny seeds. In intracavity brachytherapy, a device containing the radioactive is placed in a body opening. Uterine and cervical cancer are often treated with this. The device is usually a tube or cylinder specifically made to fit the specific body opening.
Burr Hole Surgery For Haematoma
Burr hole surgery is a procedure in which your Neurosurgeon makes a small hole in your skull to relieve pressure on the brain due to the build-up of fluids such as blood which further compress the surrounding brain tissues, causing many neurological problems.
The most common reason for performing a Burr hole procedure is for hematoma. A Burr hole procedure is performed to remove the collection of blood (haematoma) just below the lining of the brain known as the dura. Sometimes, the condition resolves on its own, however, in severe cases, surgical intervention is required. It is always advised to seek a medical opinion as if left untreated, it can be life-threatening.
Colonoscopy
A Colonoscopy is a procedure used to examine the colon and rectum with a slim, flexible, lighted tube called a colonoscope. Colonoscopy provides your doctor a clear and magnified view of the inside of the colon from the anus to the area near the appendix.
Cosmetic Surgery
The Center of Cosmetic Surgery at Apollo Hospitals, India is an acknowledged center of excellence. Cosmetic enhancement treatment, beyond being a way of aesthetic improvement, involves advanced and intricate procedures. Apollo Hospitals, India has highly experienced specialists in cosmetic and plastic surgery, state-of-the-art infrastructure, and a patient-centric ambiance – ensuring world-class medical attention and care. Additionally, cross-specialty consultation can be done whenever needed, thanks to specialists in over 50 disciplines at Apollo Hospitals, India.
The Centre also offers medical tourists from all over the world, superior quality cosmetic treatment at costs that are highly affordable, with results comparable to those at the best centers across the globe.
For more information, please visit Apollo cosmetic clinics
Fast Track Daycare Total Knee Replacement
Fast track daycare total knee replacement surgery is an advancement in knee surgery whereby the patient is discharged on the same day after the surgery. This reduces physiological and psychological stress related to surgery by enhancing early mobilization and rapid recovery.
Knee replacement surgery is performed to restore the mobility and functioning of knee joints that are damaged due to injury, disease or wear-and-tear. You will be undergoing a few investigations and based on these reports, your Orthopedic surgeon will decide whether you are suitable for Fast Track Daycare Total Knee Replacement. Fast track daycare total knee replacement surgery provides faster mobility, economic advantage and also reduces any cross infection, especially during the pandemic situation.
Minimally Invasive Coronary Bypass Surgery (CABG) In India
MICS CABG or MICAS stands for Minimally Invasive Coronary Artery Bypass Surgery and is a newer form of heart bypass surgery in India. It is a relatively new and advanced technique of performing coronary bypass for the treatment of coronary heart diseases. In this technique, the heart is approached through the side of the left chest via a small 4 cm incision. This cut is placed just under the nipple. The chest is entered between the ribs without cutting any bones and by splitting the muscle.
Similar to regular heart surgery, the operation is performed using all arteries or a combination of arteries and veins removed from the leg. The vessel from the leg in these operations is also removed endoscopically without cutting the skin over the leg. With highly advanced instrumentation, advanced techniques, and skilled Clinicians, Apollo Hospital performs the surgery very safely, making it one of the best hospitals for CABG surgeries in India.
Laparoscopic Appendectomy
Laparoscopic Appendectomy is a minimally invasive surgical technique to remove the appendix through a few small abdominal incisions.
Laparoscopic Appendectomy is recommended to remove the appendix if you have the symptoms of appendicitis. Appendicitis is a medical emergency i.e. your appendix has become swollen and infected. This can lead to the bursting of the appendix further causing life-threatening infection (peritonitis) in your abdomen.
Total Knee Replacement Surgery
Apollo Hospitals introduces "The Ideal Knee" – the future for Total Knee Replacement through a new technique – Attune Rotating Platform Knee Replacement, a first of its kind in South India.
This revolutionary procedure performed by Dr. Lenin Chinnusamy, Senior Orthopedic Surgeon has proved improved performance and great results.
This innovative surgery was performed on both knees on a 63-year-old patient who was suffering from Hypertension, Diabetes Mellitus, Hypothyroidism, and Coronary Artery disease for which he underwent CABG – Bypass heart surgery 5 years back.
Through Knee Replacement surgery is a successful procedure, patients are not completely satisfied often because of the limitation of day-to-day activities like getting up from the chair, going up and down the stairs, sitting on the floor, etc.
Some patients have discomfort and are not able to bend the knee completely after Total Knee Replacement despite having good pain relief. The present-day knee implants last on an average of 10-15 years. Many patients with Arthritis of the knee hesitate to undergo this surgery because of the prolonged post-operative pain and recovery after the conventional Total Knee replacement.
Frequently Asked Questions
Where is Apollo Hospital in Karur located?
Apollo Hospital in Karur is located at below address
Apollo hospital,
163 A- E, Allwyn Nagar, 30,
LGB Nagar, Kovai Main Rd,
Vaiyapuri Nagar,
Ramanujam Nagar,
Karur district 639002
What is the Apollo hospital Karur phone number?
The Apollo Hospital Karur phone number is 09095211066
Additional contact numbers for each department is Apollo hospital Karur is given below
Enquiry & Reception:               +91 4324 – 241900 / 240800 / 240900
Doctors Appointments:           +91 9095466211
Emergency:                                1066 / +91 9865211066 / +91 9965579211
Helpdesk:                                   +91 9095211066
Preventive Health Checkup:  +91 9750977211
Grievance & Feedback:           +91 9750972211
E-mail:                                        [email protected]
How do I get an Apollo hospital Karur vaccine appointment?
Apollo Hospital Karur Vaccine Appointment can be booked directly by calling the phone number 09095211066
What is the list of doctors in Apollo hospital Karur?
There are 20 doctors in Apollo Hospital Karur. Online doctor appointment can be booked at Apollo hospital doctor online appointment